SPANISH CLASSES FOR TEENS (15 to 17yrs)
Join our Spanish Classes Programs for Teens Age 15 to 17 Years old
SPANISH FOR TEENS 2 (15 to 17 years old)
Do you need help in passing an exam for your IB exam? Thinking about applying to an American university? Curious about the Spanish language and culture? At The Spanish Academy, we have many courses that help build up your confidence in Spanish no matter what your goal is. All our teachers have many years of experience preparing students for official exams.
TEACHERS & SYLLABUS
So you're facing the last years of high school, and college, working life and new experiences in new countries are approaching. It's time to get ready for it! We use the Communicative approach to make our lessons efficient, fun and motivating! No matter what your goal with Spanish is, we will help you achieve it. See how our programs can help your Spanish goals:
DELE for Young Learners
DELE is the official Spanish exam recognised worldwide.
All our materials follow the standards established by the European Framework of Reference for Languages (CEFRL).
This means that our students are able to achieve outstanding qualifications in the official Spanish exam (DELE).
DELE has 6 levels: A1, A2, B1, B2, C1, C2. We offer courses for all of them.
Our teachers are official examiners and have experience examining in Hong Kong.
IB
Many international schools in Hong Kong follow the British system.
IB Spanish exams are quite challenging. But don't worry, we help you get the best results. Our teachers have many years of experience in preparing students for IB exams. We know the most common weaknesses as well as the best strategies to get over them. No matter what level you are aiming for we will help you and push your grade to the top.
HKDSE
Since 2012, Hong Kong secondary education adopted a new system called HKDSE. Under the category of Other Language Subjects, Spanish is an option and is quickly becoming the most popular option!
Our curriculum is adapted for those taking the HKDSE exams.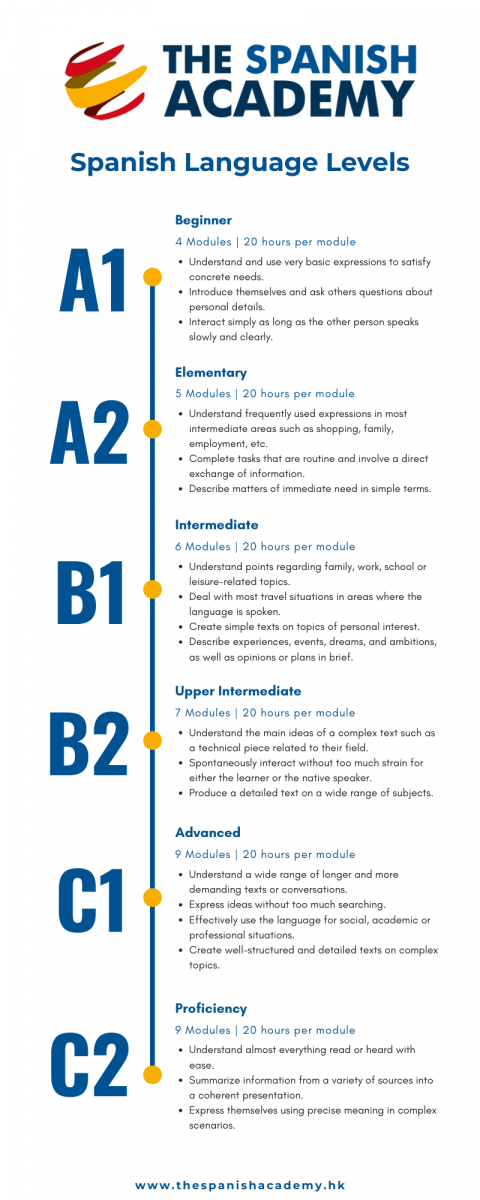 If you have taken Spanish lessons before but you are not sure what level you are in, you can take our Spanish Level Test and our teachers can assess your level based on your test results.
Register Now or Send Us An Enquiry!
Need a more flexible schedule? Check out our private classes!
Bring a friend and enjoy a HKD 300 discount on your classes!
Got questions? Send us a message!