He graduated as an engineer at UPC Barcelona and post-graduated at UCI (University of California Irvine)  and after obtaining the Postgraduate Certificate of Education (PGCE) and ELE (Spanish Teaching), he has been teaching Spanish in the US, UK, Spain, Italy, Morocco and Hong Kong. His most remarkable achievement in his words was the wonderful and rewarding experience at a Spanish teaching volunteering program in Morocco with a team of over 20 teachers.
He understands very well the Hong Kong education system and leads his students towards fast learning through his expertise on the Communicative Language Teaching (CLT)
Highly determined to offer the best quality in Spanish teaching, he co-founded the school after teaching 2 years in Hong Kong. Students from all ages and nationalities have learnt their Spanish thanks to his efficient approach.
David loves traveling as well as outdoor sports such as skateboarding, snowboarding, hiking and surfing.
Certificate as Spanish Teacher, International House, Madrid, Spain. Master's degree in Business Administration (Spain and Germany) International Baccalaureate at French School of Valencia.
Adrian is a very sociable and skilled teacher. He started mentoring student groups in Vancouver back in 2012. Combining several jobs and running his own catering business in Hong Kong, he started developing a high interest in private tutoring. He has over 4 years proved teaching experience in Hong Kong and has specialised in IGCSE and IB exam preparation. As part of the philosophy of our company, his focus on CLT (Communicative language teaching) provides his adult groups with a fast and enriching learning of Spanish.
Adrian is also passionate about outdoor sports, photography and Spanish culture. He is now also teaching Spanish cooking at Citysuper which he believes is becoming part of Hong Kong people's new interests.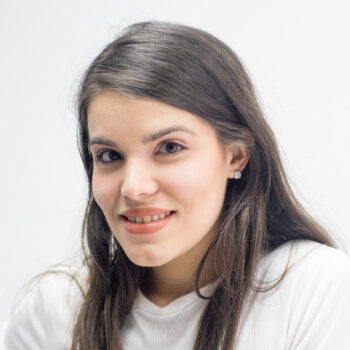 After graduating as a translator, Claudia became a Spanish teacher during an exchange programme in South Korea and later completed an intensive course for teachers.
She moved to Hong Kong in 2013 and became part of The Spanish Academy since its foundation.
A lover of arts and crafts, her creativity and cheerful personality is an instant hit with both kids and adults. With a special charisma and endless patience, she is a preferred teacher for those looking for a self-paced class. Her playgroup classes are very resourceful and interactive.
She will surely be the best teacher for kids and teens who need a funnier approach towards teaching. Her classes have become some of our students' favourite and let them immerse in a totally different learning environment thanks to her endless tools for learning.
Flavia  is an Architect graduated from the Faculty of Architecture in Uruguay and with PhD Degree from the Technical University in Prague. She has a wide experience working as a designer as well as a teacher. As a Spanish teacher, she has more than 10 years' experience with students of different nationalities, levels and ages.
Flavia started teaching in Uruguay as a Spanish tutor for Germans in agreement with the Goethe Institute of Montevideo.  She has always combined Spanish teaching with her design career: during her PhD studies, she has been working in Prague as a private tutor, as a lecturer at language schools and as an instructor for companies.  In Hong Kong she got experience teaching kids. She developed special teaching support with own made illustrations, which has been successfully tested by small and older students.
Flavia uses to combine rational work, conversation and fun to make the class enjoyable and participative. As a designer and artist she is passionate and loves to explore new and better ways to explain things. Her main goal is to help the students understand, feel and develop their own way to express in Spanish.
Flavia is an architect, designer and artist.  She loves to keep learning, share knowledge, culture and make new friends. She also speaks English, German and Czech and started to learn Cantonese.
After finishing his studies in Computer Science and graduating from the University of Salamanca in Business Administration, Mario worked for an international company in Barcelona. Soon he realized that his true passion was teaching and learning languages.
For this reason, Mario studied a Master's degree in Linguistics and Spanish teaching to foreigners at the University of León, and now continues with his research by developing a Ph.D. in Spanish linguistics.
During the last three years he has worked in different language centers teaching Spanish in Spain, and for more than one year in a university in China.
Mario loves to learn languages, to travel, to practice all kinds of sports and, above all, he enjoys his work teaching Spanish and its culture around the world with passion, dedication, and patience.
Qualified Physical Education and Primary teacher from the University of Barcelona, Spain. Certified with TEFL and ELE. Trained in Steiner Education methods.
After finishing her bachelor degree she decided to move to UK for 5 years where she taught in different schools.
After travelling and working around Asia and Australia for almost three years she decided to come to Hong Kong to teach Spanish. One of her best experiences has been volunteering in Indonesia in a self-sufficient village.
She is a very enthusiastic teacher with very positive vibes. Adriana loves to have fun with students in class while learning. Her number one hobby is DANCING.
Cris was living in China for 7 years and she worked as a Language teacher the whole time, mostly teaching kids and teenagers.
She speaks Spanish, English and Chinese and she has a master degree from a Chinese university. She also has a certificate in teaching language to young learners.
She considers herself an energetic and optimistic person, an environmentalist who loves nature. She likes sports and she is also a fitness instructor. She enjoys life here in Asia because she loves the diversity of the cultures. Teaching languages is her biggest passion.
Leanne is from Hong Kong. She is an energetic and organised person who recently graduated with a master's degree in Human Resource Management & Consulting at University of Bath.
She loves to learn languages and travel. And what's most important: She is learning Spanish very fast with us!