We know that Spanish is trendy, and you want to certify your level! The best way for that is to take the DELE exam.
Firstly, the DELE is an official exam held multiple times a year to validate your level of Spanish. The Common European Framework of Reference levels are A1, A2, B1, B2, C1, C2. In Hong Kong DELE usually happens in May and October. Check more info here
The DELE A1 is an internationally credential that introduces people to Spanish for the first time and assesses their level of proficiency from the start of their studies. The DELE A1 provides students with access to the Spanish-speaking world, improves their academic preparation, and gives them the confidence to pursue the remaining certificates.
Moreover, this certification guarantees that the student will be able to communicate effectively in communication scenarios involving immediate demands or relatively common difficulties, using basic language.
The BEST WAY to PREPARE the DELE Exam is with our DELE Preparation courses. However, in this post, we will show you some of our best tips to prepare it and get the best results.
Structure of the DELE A1 exam:
The DELE A1 exam has 4 parts and two groups:
Group 1: Reading and writing abilities. It focuses on reading comprehension (45 minutes, 4 activities) as well as written expression and collaboration (25 minutes, 2 tasks).
Group 2: Oral skills. We discuss oral expression and interaction (20 minutes, 3 activities) as well as listening comprehension (25 minutes, 4 tasks) (15 minutes). In this last section of oral expression and interaction, you will first give a personal presentation; then you will present a subject for 2-3 minutes; and finally, you will have a dialogue with the interviewer regarding the topic of assignment 2.
Take a close look at the table below, which has more details and graphic explanations: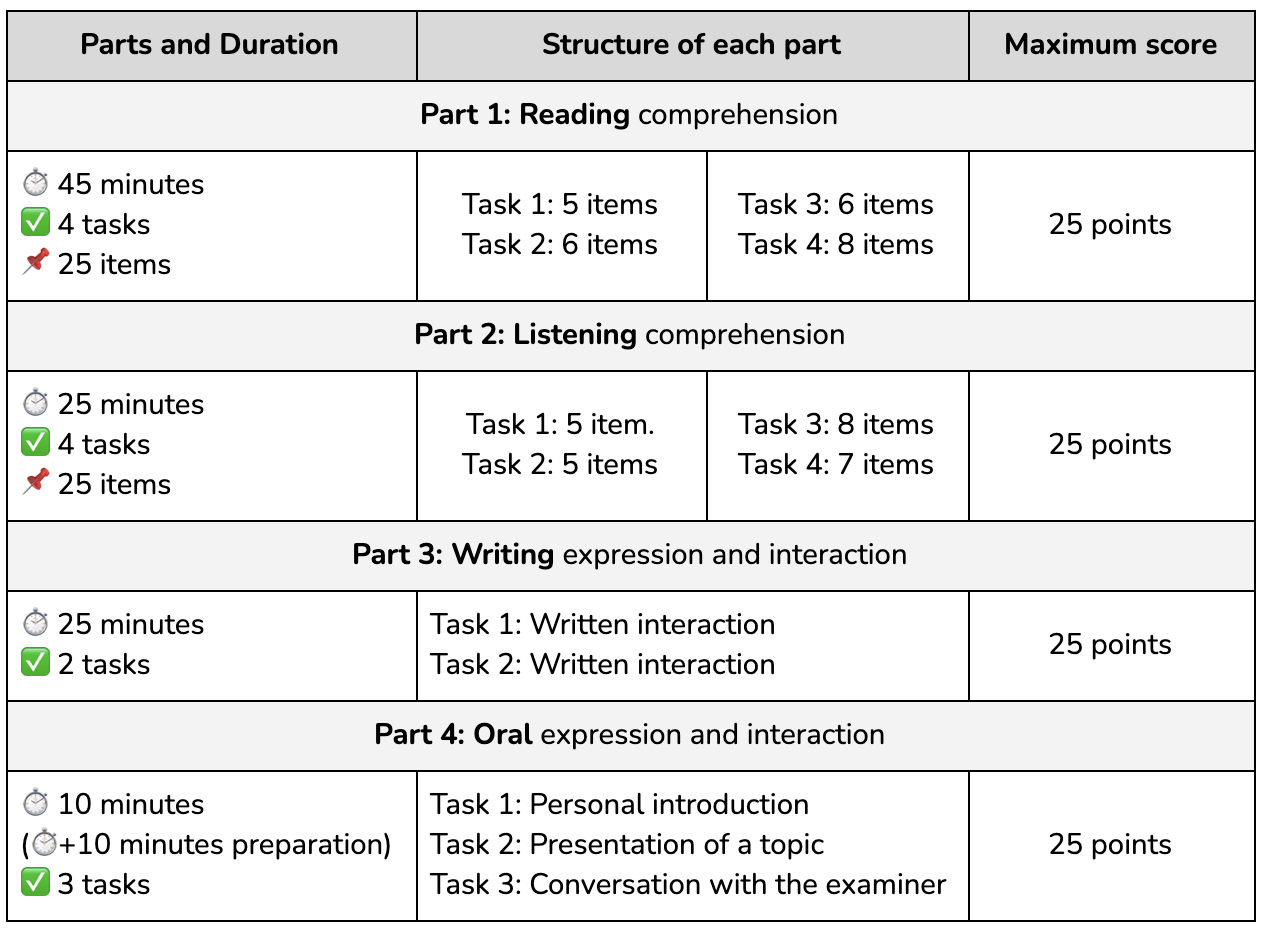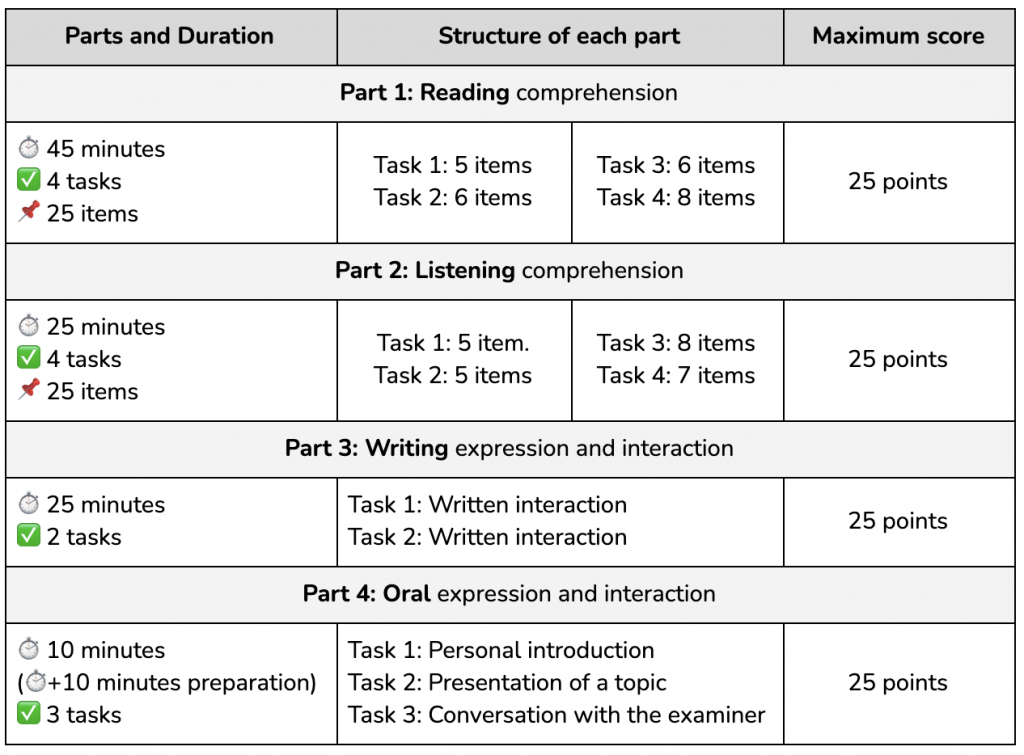 In the same examination session, a PASS grade is necessary in each of the test groups. A maximum score of 100 points is available. You will need a minimum score of 30 in each group to get a PASS grade.


If you need more general information about the DELE A1, check this post.
DELE A1 preparation tips
It is not a difficult test. Any person who has taken a general A1 course at The Spanish Academy should be able to learn all the content. This being said, it is good to be familiar with the exam tasks and our "tricks and tips".
Below you will find the best tips for each part of the exam!
1. READING
✅ TIME IS GOLD
Most of the students find the reading comprehension, one of the easiest parts in the DELE A1 exam. However, many of them realize on the day of the exam that the biggest issue is the time. Practicing with past papers and a timer is one of the best advices you will get!
✅ Read the whole task first
Yes, this one may sound too obvious. But believe me, many people start solving the task without having read the whole thing. Since the reading part is based in a multiple choice style, the best thing you can do is reading the whole text first, then the answers, and at the end try to solve every item one by one.
2. WRITING
✅ Let it flow with connectors
The writing part is where you want to show off how you connect the ideas through linking words.
Even though A1 is the first level for the DELE, and the writing tasks are quite simple and short, you should try to make good use of some connectors such as y, pero, por ejemplo, también, porque…
✅ Do not forget to mention what they ask for
Again, this advice may sound a bit silly, but it is not.
The first writing task is a form that you have to fill out, which is quite straightforward.
However, in the second part you have to write a short text to solve a specific situation; for example, write an advertisement in the newspaper to find a flatmate.
Besides the main purpose of the text, the exam mentions a couple of points that should mention in the message. DO NOT FORGET TO MENTION ANY.
3. LISTENING
✅ Listen, listen and listen
Many find the listening the hardest part of the exam. This is because it is a bit out of control. There is nothing much you can do to prepare it. The best way is to listen to a lot of content for beginners, either in exam preparation books or in YouTube channels. We always recommend challenging yourself a bit, and try to listen a lot of A1 content, but also a few audios from A2. Believe me, you will lose your fear!
✅ Use your time wisely
While in the reading part, time is an issue, in this part the time to answer every item is pretty much defined by the audio itself. However, it is very important that you practiced doing many past papers and that you are familiar with the exam. In this way, you will know how to use your time wisely and to read all the questions and possible answers during the instructions time.
4. ORAL
✅ You must nail Task 1 and Task 2!
In the speaking part of DELE A1, Task 1 is always the same! You always have to introduce yourself, mentioning things like your name, nationality, age, profession, personality and languages that you speak. Hence, prepare this part at home, ask your teacher from The Spanish Academy to correct it, and memorize it!
In Task 2, you have some time to prepare a topic, usually about your life, such us how your week is, your hobbies, profession…
At the beginning of the speaking part, you have 10 minutes to prepare task 1 and task 2. Since you already memorized task 1 at home, use these 10 minutes to prepare task 2 perfectly!
✅ You go blank? No worries
It can happen! It actually happens! But do not worry. Use your Spanish resources to solve it.
For example, you do not understand what the examiner is saying? Do not blank, or ask him in English. Just use "¿Puedes repetir por favor?, "¿Cómo dices?", "No entiendo", "¿Cómo?", "¿Perdona?".
---
At The Spanish Academy we wish you best luck for your DELE exam, and we are sure that you can get amazing results if you follow these tips.
¡HASTA LA PRÓXIMA!